Indian power and energy sector is undergoing a significant change that has redefined the industry outlook. Power along with existence and development of adequate infrastructure is the most critical for the economic growth and welfare of the nation. The Government of India (GoI) focuses on attaining 'Power for all' has accelerated capacity addition in the country. Electric Vehicles & E-Mobility along with addition as well as replacement of conventional power by renewable power (wind / solar / waste to energy) will increase rapidly and drive the growth for manpower in this super specialized domain in the coming two decades.
Job scenario is also undergoing a sea-change in favour of the energy sector in the whole world particularly in India where up to 3.5 million people can be employed in the Indian power sector by 2050. More than 3.2 million people can be employed in the renewable energy sector by 2050. The renewable energy sector could employ five times more people by 2050 than the entire Indian fossil-fuel sector employs today.
Government Initiatives
The Government of India has identified power sector as a key sector of focus to promote sustained industrial growth. Some initiatives by the Government to boost the Indian power sector are as below:
In April 2021, the Ministry of Power (MoP) released the draft National Electricity Policy (NEP) 2021. The MoP has created an expert committee including members from state governments, the Ministry of New and Renewable Energy (MNRE), NITI Aayog and the Central Electricity Authority (CEA).
As per the Central Electricity Authority (CEA) estimates, by 2029-30 the share of renewable energy generation would increase from 18% to 44%, while that of thermal is expected to reduce from 78% to 52%.
The Road Ahead
The Government of India has released its roadmap to achieve 227 GW capacity in renewable energy (including 114 GW of solar power and 67 GW of wind power) by 2022. The Union Government of India is preparing a 'rent a roof' policy for supporting its target of generating 40 gigawatts (GW) of power through solar rooftop projects by 2022.
Coal-based power-generation capacity in India, which currently stands at 199.5 GW, is expected to witness a total installed capacity addition of 47.86 GW by 2022.
If you are ready to catapult your career with the growth of Energy sector then MBA Energy from IISWBM can be the best solution.
MBA in Energy Management at IISWBM, Kolkata
IISWBM is the pioneer in providing the Energy Management MBA (under MBA-Public Systems) program since 1993 affiliated by Calcutta University. You will be getting a Master's Degree awarded by the University of Calcutta post successful completion at a very nominal course fee of Rs. 5.15 Lakhs only.
IISWBM Energy Management Dept. is also recognised as Association of Energy Engineers (AEE)-India Chapter, since 2004.
For details of AEE(USA) refer https://www.aeecenter.org/
The AEE India Chapter at IISWBM (http://www.aeeindia.org.in/) has won international awards in various categories since its inception in 2004, including the "Best Chapter Performance Award".
Every year some of our students receive International Scholarship from AEE(USA)
Budding women energy managers of IISWBM also recognized by CWEEL, USA through international scholarship.
Placement
Every year 90-95% of the Energy Management students get placed in reputed MNC, Consulting Firms, Renewable Energy Companies, Market Research Firms, Energy Audit and engineering companies both global and local. Placement assistance is provided by the Institute.
Average CTC is approx. 5 Lakhs for the initial years after that there is huge growth opportunity with the experience. Many of our alumni are holding the highest position in the esteemed organisations and many became entrepreneurs.
Some of our key recruiters include:

## Our alumni are working at senior management levels in various organizations across the world and have become industry stalwarts after attaining requisite experience.
The main areas of Job opportunity are: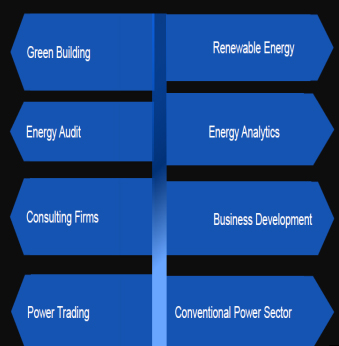 Admission Criteria & Selection Procedure
The minimum qualification for admission to the Course is B.E/B. Tech/ BCA/BBA/AMIE or Honours in Math/Physics/ Chemistry with more than 50% from any University recognized by the University of Calcutta.
The applicants for the admission to the MBA-PS Course with specialization in Energy Management are required to take MAT / CAT / CMAT / JEMAT / GATE/ GMAT. The candidates short listed on the basis of cut-off-marks in the above selection tests would be required to appear for a Group Discussion and Personal Interview at IISWBM, Kolkata. The final selection of candidates will be strictly on the basis of merit.
Course Fee- Total Rs. 515000/- only (First year: Rs 273500/-, Second year: Rs 241500/-) security deposit (Rs 5000/-) and Library deposit (Rs 5000/-) refundable
For details contact:
Dr. Arindam Dutta, B. E, M. Tech, Ph.D., MIBPSA (U.K), CEA
Faculty and Coordinator of Energy Management Dept,
IISWBM, Secretary of AEE(USA)-India Chapter
Phone no.- +917044626881, Email: arindamd@iiswbm.edu
Download Forms
Download Brochure